Introducing Avena, The Oatmeal Drink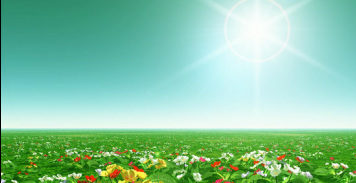 Yes, oatmeal! Don't judge it until you taste this great tasting powder you mix with water with the health benefits of oatmeal and other great ingredients:

Organic Instant Oatmeal, Organic Coconut Sugar, Pea Protein, Coconut Oil, Organic Oat Bran, Organic Agave Insulin, Vanilla Flavor, Gum Xanthan, Sea Salt, Cinnamon, Stevia Extract.

As with other Eden's Greens products, great care was taken to make this a healthy product:

· has NO genetically modified ingredients (GMO's)
· has NO irradiated ingredients
· has NO synthetic USP "vitamins"
· has NO added fillers, colors or preservatives
· has NO monosodium glutamate (MSG)
· is safe for diabetics, vegans, and gluten-free diets

Avena is a great source of protein and fiber, and is dairy free.

Avena is the first Eden's Greens product to actually contain a sugar, but you will see that we used organic coconut sugar which has health benefits on it's own (and is four times more expensive than evaporated cane juice) and has a very low glycemic index making it safe for diabetics as seen below:

NUTRITIONAL INFORMATION (30 grams Avena powder mixed with 8 ounces of hot or cold water)
Calories- 85 Potassium- 292mg
Carbohydrates- 9g Sodium- 89mg
Protein- 6g Calcium- 12mg
Fat- 3g Selenium- 15mcg
Sugar- 4g Fiber ----5g
Cholesterol 0 Iron - 2.2mg

Avena was first made available as single-serve packets in May 2013 and jars in July 2013. Retail price is $25 a jar (600 gram, 20 servings), or $1.50 as an individual single-serve packet. This product has a low production run to determine if it is well enough received since there is no other product like it on the market.
---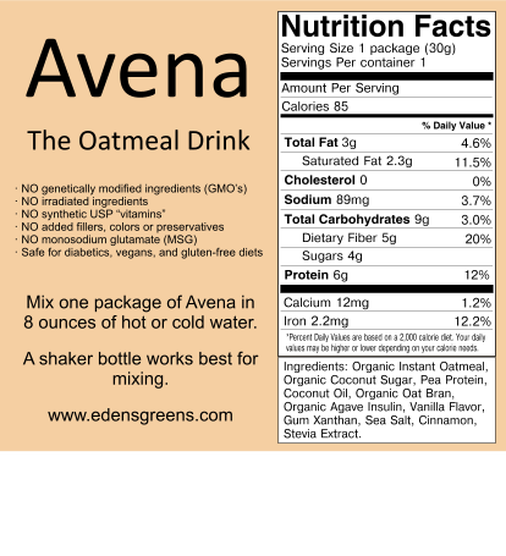 ---